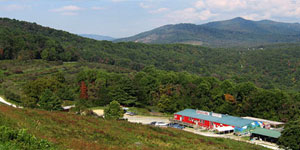 The Altapass Orchard
opens up for the season annually in early May and has for over 100 years provided the Southeast and local area with delicious varieties of fresh mountain apples. The Burnsville NC Mountains and climate of the Blue Ridge is ideal for growing mountain fresh apples. The 102-year-old Altapass Orchard, which is nestled right on the Blue Ridge Parkway NC along the Eastern Continental Divide, has been providing bushels upon bushels of various varieties ever since the Clinchfield Railroad built the orchard in 1908.
Currently, the Altapass Orchard grows varieties such as Stayman-Winesap, York Imperials, King Luscious, Golden Delicious, Virginia Beauty, Rome Beauty, and Grimes Golden apples. Throughout the high season, from early May until late fall, there is plenty to do. At the Altapass Orchard you can enjoy various family fun events including storytelling, hayrides, orchard bird watching, and so much more. The gift shop sells tons of neat homemade items including delicious homemade apple pies, fritters and other delicious treats and, of course, fudge!
Plan to visit the Orchard at Altapass when you escape to the Burnsville NC Mountains outside of Asheville NC and nearby to the NC High Country. Not only will you enjoy Mt Mitchell NC lodging that is right near Mt Mitchell Golf Course, Mt Mitchell State Park and the Orchard at Altapass, but our Burnsville NC vacation rentals are nestled in the heart of all of the amazing mountain activities that this outdoor wilderness area affords. Book your trip to the Blue Ridge Mountains and stay in our vacation rentals Burnsville NC. We offer two-bedroom units in Western NC at Alpine Village.
Interested in Mt Mitchell NC lodging near the Western North Carolina attractions? The Burnsville NC vacation rentals at Alpine Village Resort, an NC Mountain resort are nestled near the Pisgah National Forest. They are within a short driving distance from places such as Linville Caverns in North Carolina, Biltmore Estate Asheville, Chimney Rock Park NC, Grandfather Mountain Linville, and the best gem mines in NC. There is something for everyone to enjoy here. Whether you look forward to complete seclusion or a fun adventure, you will find all that you are looking for in a mountain vacation at Alpine Village Burnsville NC. Click around the site and read more about the Burnsville NC Mountains and all of the amazing things going on, Yancey County Western North Carolina festivals and events. Book your North Carolina Mountain retreat today!