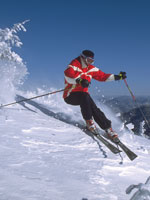 We all know the Blue Ridge Mountains and the Great Smokies near Burnsville NC receive their fair share of snow each and every winter. What most who live in other regions of the country do not realize is that you can enjoy winter sports like snow skiing, snowboarding, tubing, ice skating, and even cross country skiing in North Carolina, and the Burnsville NC vacation rentals nestled in Alpine Village Townhomes are just a short driving distance from most of the major resorts where you can go North Carolina snow skiing. The state is home to six resorts that offer snow skiing North Carolina, and the cabin rentals in Mt Mitchell NC are near four of them, as well as two snow tubing parks. Book your trip for this winter season and you'll more than likely see some snow. Last season was one of the best in recent years as far as average snowfalls!
Beech Mountain Ski Resort and Sugar Ski Resort, as well as Hawksnest Snow Tubing Park, are all located in the High Country region which is typically less than an hour away from the Burnsville NC vacation rentals at Alpine Village Townhomes. You can enjoy a day out on the slopes and then come back to your cozy cabin and relax with a glass of wine. All of the vacation rentals in Western NC situated in Alpine Village Townhomes come fully equipped and many have additional amenities that will leave you never wanting to return home. In the winter time, you and your loved ones can relax by the fire, and enjoy days out skiing in Western North Carolina at these great nearby resorts.
The two resorts that are nearest to the cabin rentals in Mt Mitchell NC are Wolf Laurel ski resorts near Mars Hill and Cataloochee Ski Resort near Maggie Valley. Almost all of these ski resorts offer snow tubing in addition to skiing in Western North Carolina. These areas are close enough that you could include a snow skiing North Carolina day trip during your stay near the tallest mountain in the Appalachian Mountain Range, Mount Mitchell NC. Click to learn more about other fun happenings and NC Mountain festivals that take place annually. Browse and check out the rooms and amenities in the cabin rentals in Mt Mitchell NC at Alpine Village Townhomes and start planning your next getaway today. Alpine Village Townhomes offers cozy Burnsville NC vacation rentals that are nearby all of the fantastic Western North Carolina Attractions. For information about the best loved attractions, click to read about Biltmore Estate Asheville, the Chimney Rock Park NC, Mt. Mitchell State Park, Linville Caverns in North Carolina, the Orchard at Altapass, Toe River Crafts NC and the Parkway Playhouse, driving the Blue Ridge Parkway and the Western NC Mountain Quilt Trail that stretches through Mitchell and Yancey Counties.