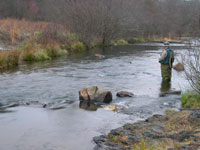 Looking for the perfect location to forget about your troubles and enjoy some fly fishing in North Carolina? The Burnsville NC Mountains are perfect for anyone who needs some rest and relaxation. Each of our Burnsville NC vacation rentals in the Alpine Village Burnsville NC are minutes away from some fantastic and-little known Western North Carolina fly fishing spots. For decades, avid fishermen have kept this area a secret, but today, there are many guides that offer fly fishing in North Carolina and all can take you to the secret hideaways and creek sides that will give you the chance to catch that rare "big one." Most of the area's creeks are filled with all kinds of trout, including brown trout, wild mountain trout and rainbow trout and, if you use the right kind of tackle and technique, you can also catch other types of river fish such as muskellunge and bass.
The mountain scenery and secluded creeks and mountain brooks are perfect for anyone trying to enjoy a fishing vacation. Even if you are not traveling here just for the wonderful fly fishing in NC spots, think about spending some time out on the river and local creeks near the vacation rentals in Western NC that are available for Mt Mitchell NC lodging at Alpine Village Townhomes. Read on to find out more about some of the great places to check out and guide companies that offer Western North Carolina fly fishing.
Toe River Fishing
While most associate the Toe River with the larger, Toe River Valley area and Toe River Arts endeavors that are celebrated throughout the region, the Toe River is fantastic for not only NC white water rafting but also fly fishing in North Carolina. The Toe River flows through large, remote areas, creating the perfect quiet spots to enjoy Western North Carolina fly fishing all alone. Near Spruce Pine and the town of Newland, there is an award-winning section of the river that has been aptly named a Mountain Heritage Trout Water. This two-mile section of the Toe River is heavily restricted for Western North Carolina fly fishing, yet if you follow the daily reel limits, size limits and lure restrictions that are laid out by the N.C. Deptartment of Wildlife Resources Commission, you will find some great ones. Of course, by law, you can't keep anything you catch on the Toe River. The Toe River is a Western North Carolina Fly Fishing river that has been designated a catch and release, delayed harvest regulated river. The trout season typically starts in the Blue Ridge Mountains around October, when the leaves are the most beautiful, and it ends after spring in June.
In addition to the Toe River and the many area creeks and mountain streams that flow from this body of water, there are a few great trout ponds and farms that allow families to spend the day fly fishing in NC. Most are a short distance away from the Burnsville NC vacation rentals at Alpine Village Townhomes. Plan to go Western North Carolina fly fishing with your loved ones when you visit Mount Mitchell for a fantastic vacation getaway. In addition to fly fishing in North Carolina there are many other outdoor activities that are highly popular with vacationers. Click to read the information we've provided on outdoor interests such as hiking in Western NC, gem mining in Western NC, North Carolina snow skiing, NC Mountain biking and driving the Blue Ridge Parkway. Each of the cozy vacation rentals in Western NC at Alpine Village Townhomes are near Western North Carolina attractions such as Biltmore Estate Asheville, Mt. Mitchell State Park, Chimney Rock Park NC, and the Orchard at Altapass. Contact us and begin planning your trip today!