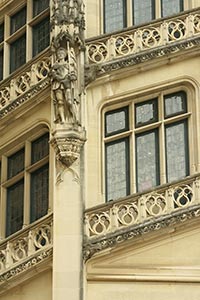 There are countless Western North Carolina attractions in the Burnsville NC area. From Altapass Orchard to Linville Caverns to Mt Mitchell State Park, the Burnsville NC Mountains are teeming with exciting places to visit. You won't want to miss any of the fabulous Western North Carolina attractions in the vicinity of Alpine Village Burnsville NC, but no trip to North Carolina would be complete without a visit to Biltmore Estate.
Biltmore Estate Asheville was constructed by George Vanderbilt in 1895. Its construction was one of the biggest residential building projects ever attempted in the United States and it remains the country's largest privately owned home. Today, visitors flock to the Biltmore House to marvel at the castle-like appearance of the edifice and explore not only its lavishly furnished interior, but also its meticulously maintained grounds. Guests of all ages are captivated by the opulence of the family home, which contains 34 bedrooms, 43 bathrooms, 65 fireplaces, an indoor pool, a gymnasium, a bowling alley and more. Children and adults alike enjoy admiring the magnificent décor that fills Biltmore Estate Asheville's 250 rooms, and guests will have the opportunity to see a number of relics, including a chess set which belonged to Napoleon Bonaparte.
Outside, you can enjoy the impressive grounds of Biltmore Estate NC. Designed by Frederick Olmstead, who gained renown as the designer of New York City's Central Park, Biltmore's grounds are immaculately laid out, and are especially striking during early spring when Biltmore Estate North Carolina holds its annual Festival of Flowers. Biltmore Estate Asheville also offers a number of outdoor activities, including biking, horseback riding NC, fishing, hiking in Western NC, off-road driving and more. Visitors also enjoy marveling at the panoramic views that are visible from this mountain estate.
Shopping, dining, and visiting Biltmore Estate NC's winery also popular activities that attract tourists to this special location near our Burnsville NC vacation rentals. A visit to Biltmore Estate North Carolina is one that you won't soon forget, but there are plenty of other Western North Carolina attractions that you won't want to miss during your stay at our cabin rentals near Mt Mitchell. The Quilt Trails of Western North Carolina, various NC hiking trails, gem mining Western NC, Hickory Nut Gorge, Chimney Rock Park NC, North Carolina Mountain biking, driving the Blue Ridge Parkway, fly fishing in North Carolina, white water rafting around Western North Carolina, and visiting the waterfalls in NC and the Toe River Valley are just some of the many things that guests of our vacation rentals in Western NC can enjoy. Browse our site or contact us today to learn more about mountain getaways at Alpine Village Burnsville NC.