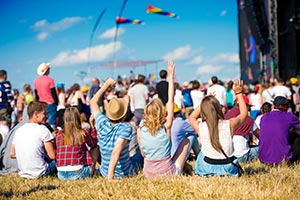 Visitors travel from all over the country to attend some of the Western North Carolina festivals that take place annually in and around Burnsville, Bakersville and the Burnsville NC Mountains near Mount Mitchell. Virtually each month there is something interesting and fun going on and Appalachian Mountain culture is celebrated at every turn. Read on to find out more about the renowned fall festivals Western North Carolina and North Carolina Mountain festivals, each of which are associated with their own unique stories and events. Other regionally popular events, such as the Grandfather Mountain Highland Games, the Wooly Worm Festival and the Valle Country Fair, all take place in the nearby High Country areas of Linville, Banner Elk and Valle Crucis. Here are some of the fun NC Mountain festivals that take place in areas very close to the cabin rentals in Mt Mitchell NC. The Mt Mitchell craft fair takes place each year in August and has been a tradition for over 54 years. Craft vendors from all over descend on the town square in Burnsville NC and set up various artistic booths where you can find a variety of handmade items. The two-day event is loved by all and you're guaranteed to find some unique products here. Plan to visit the first weekend in August and stay in our Burnsville NC vacation rentals at Alpine Village Townhomes.
NC Gem and Mineral Festival
The NC Gem and Mineral Festival is held annually in Spruce Pine and has taken place for more than five decades. Jewelers, gemologist and rock hounds from around the Southeast gather together at this event in late July to showcase their new cuts, colors and styles. Patrons and visitors are allowed to attend.
Toe River Storytelling Festival
The Spruce Pine Toe River Storytelling Festival is another one of the NC Mountain festivals that happens in July. Yearly, storytellers, locals and visitors celebrate the art of storytelling and oral traditions. This festival is packed with fun events for the whole family. Admission for adults is $10; kids under 9 are free.
Carolina Mountain Literary Festival
The Carolina Mountain Literary Festival is one of the fall festivals Western North Carolina that are held during the time when the leaves are just beginning to change. Regional authors, writers and hobbyists gather together for workshops, book signings and the sharing of literary works.
The Lavender Festival at Mountain Farm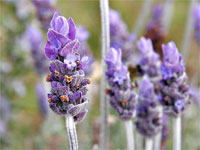 The Lavender Festival at Mountain Farm is one of the newer NC Mountain festivals, yet it is always a great time. Read more about Mountain Farm in the information included on the local Farm Tours. The Lavender Festival takes place in mid June. During the two-day event, families can come out and feed the animals, and take part in unique workshops related to making products from lavender, essential oil extraction and more.
Old Timey Fall Festival
Another of the fall festivals Western North Carolina that induces immediate feelings of nostalgia, the Old Timey Fall Festival is held each year in downtown Burnsville NC. During the event, you can browse arts and crafts, listen to some great live music and snack on fall favorites such as kettle corn and chili.
Music in the Mountains Folk Festival
The Music on the Mountains Folk Festival is one of the most unique fall festivals Western North Carolina in that it celebrates the traditions of the Appalachian Mountains through music and other cultural endeavors. Folk music and bluegrass are genres of music that are strongly represented by this region, and artists from across the country visit this and other NC Mountain festivals each year to play their music.
The Rhododendron Festival in Bakersville
The Bakersville Rhododendron Festival is often confused with the nearby Roan Mountain TN Rhododendron Festival, another fantastic event you can attend. While the Bakersville Rhododendron Festival does not quite have the long history that the other event has, it is still a great festival to attend. It takes place in mid-June when the rhododendrons are blooming gorgeously throughout this mountain region. This particular flower festival is more or less a celebration of the blooms through a street carnival and vendor festival.