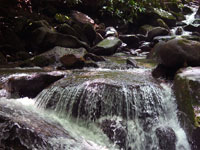 Rivers like the Toe River, Rocky Broad and others flow through this mountain paradise creating an abundance of waterfalls in NC in and around the Burnsville NC Mountains and Burnsville NC vacation rentals at Alpine Village Townhomes. A handful of the waterfalls NC that are within a short driving distance of the Toe River Valley and the vacation rentals in Western NC at Alpine Village Townhomes have reached national fame after being photographed by numerous photographers for travel and natural wildlife magazines. If you visit during any of the seasons you are likely to see numerous waterfalls in NC as you are driving the Blue Ridge Parkway in the area or traversing other secondary roads. Here we've listed a few of our favorites, but there are hundreds of other waterfalls in NC in our area. Most of the area's waterfalls NC are found in neighboring Buncombe County near Asheville and in Translyvania County, a place known as the "Land of the Waterfalls." When you explore the nearby family hiking trails in NC, you are likely to come across others.
Linville Falls North Carolina
Linville Falls is located in Avery County, and is one of the most visited Waterfalls in NC. The tiny resort village that cropped up nearby is also called by the same name, but the Linville Falls waterfall with its 45 foot drop is the major draw. The falls flow into the Linville River which flows to nearby Linville Caverns in North Carolina and helped to form the natural limestone cave.
Hickory Nut Falls
As it plummets 404 feet, Hickory Nut Falls is one of the tallest of the waterfalls in NC. You can see this amazing waterfall for free from US Highway 64, or visit Chimney Rock Park NC and you can get up close to this and other waterfalls NC and actually feel the mist as it hits your skin. Trails at the Western North Carolina attraction lead to the base and to the top of Hickory Nut Falls NC.
Walker Falls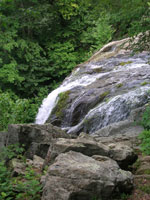 Walker Falls is an enormous 45-foot cascading waterfall located near Mt Mitchell NC in Buncombe County. It is very easy to get to, making it highly popular among those that are searching for waterfalls NC. Walker Falls is located in the Pisgah National Forest NC near Barnardsville on Walker Branch which is right off of the Blue Ridge Parkway, and Hwy NC 197 accesses the secondary roads that lead to this waterfall in NC, as well. You can enjoy driving the Blue Ridge Parkway to get to this amazing waterfall.
Setrock Creek Falls
Setrock Creek Falls is located at the base of beautiful Mount Mitchell North Carolina. Setrock Creek is a small creek that flows into the South Toe River, which is a branch of the mighty French Broad River. Setrock Creek Falls meanders over some beautiful rock formations and seemingly zigzags its way down to the bottom. There has been some dispute over its height; some claim it is 55 feet while others insist it falls from 75 feet. In dry periods, it often is a slow trickling stream.
Crabtree Falls at Crabtree Meadows off the Blue Ridge Parkway
Crabtree Falls is an amazing set of Waterfalls in NC located at the popular Blue Ridge Parkway stop at Crabtree Meadows. Crabtree Falls cascades down 70 feet of a rock ledge into Crabtree Creek near the Crabtree Meadows Campground, which is located at Mile Marker 339.5. There are trails leading around the falls, one which leads over a neat footbridge to the base of the falls. As it falls, the water spreads across the rock ledge and sprays everything nearby with mist. The mountain scenery found here is stunning.
Sliding Rock
Sliding Rock may be better known for being a natural "rock slide" than for being a beautiful place to see the waterfalls in NC; however, it is hugely popular with vacationers, so it definitely deserves a mention. Located outside of Brevard NC in the Pisgah National Forest, Sliding Rock NC is open during the height of the summer season and for a small fee, visitors can slide down the enormous flat rock ledge into the rapids below for a quick dip and fun thrill. It is located off Highway 276.
A lot of vacationers like to enjoy NC Mountain biking, fly fishing in North Carolina and NC hiking. When you are venturing out and exploring, you will come across many waterfalls in NC that make ideal subjects for photographs. Enjoying your favorite outdoor activity is a great way to get out and see some of the waterfalls NC that you may not have checked out before. Interested in other mountain activities near the Burnsville NC vacation rentals at Alpine Village Townhomes? Click to the information provided on things like Mt Mitchell golf course, the Orchard at Altapass, horseback riding NC, NC white water rafting and driving the Blue Ridge Parkway. Get started planning your mountain getaway today!