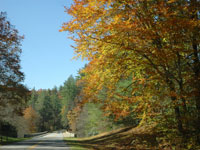 Many people visit the Blue Ridge Mountains of North Carolina and areas like Burnsville NC to indulge in the quiet beauty of the region's spectacular scenery. At Alpine Village Burnsville NC, you'll find only the best accommodations. Our Mt Mitchell lodging is ideal for a secluded mountain getaway, and the amenities you'll find here far surpass those available at most Vacation rentals in Western NC. People who choose to spend time at Alpine Village Burnsville NC are often in search of a quiet place where they can commune with nature. Our cabin rentals in MT Mitchell NC are not only perfect for a relaxing retreat, but they are close to a number of wonderful, scenic Western North Carolina attractions, including the Orchard at Altapass, Mount Mitchell State Park, Linville Caverns NC and Chimney Rock Park NC, but they are near one of the most popular scenic attractions in the Southeast. Our Burnsville NC vacation rentals offer easy access to the Blue Ridge Parkway, and many of our visitors enjoy spending their days driving the Blue Ridge Parkway.
While driving the Blue Ridge Parkway, you'll encounter numerous sites of interest, from the historical to the scenic. The 469 miles of the Blue Ridge Parkway wind through the mountains of Tennessee, North Carolina, and Virginia, beginning in Shenandoah Valley National Park and ending in The Great Smoky Mountains National Park. Near our area of Burnsville NC, you'll find fabulous opportunities for hiking in Western NC, NC Mountain biking, NC whitewater rafting, and so much more along the Blue Ridge Parkway North Carolina. Countless family hiking trails in NC crisscross the parkway, cutting their ways through the unspoiled wilderness that surrounds it. While enjoying these NC hiking trails, be on the lookout for the array of wildlife that populates this natural area and keep your eyes peeled for the delicate wildflowers and unique plant life that flourish along the Blue Ridge Parkway NC.
You'll also find a variety of historic and cultural sties along the Parkway. Near Asheville NC, just a short drive from our Burnsville NC vacation rentals, you'll find The Folk Art Center at Milepost 382. Home of the Southern Highland Craft Guild, the Folk Art Center is a treasure trove of arts and crafts that showcase the rich history of art in the Appalachian Mountains. It is one of the most popular stops for those driving the Blue Ridge Parkway. Near our Mt Mitchell NC lodging, you'll find Craggy Gardens at Milepost 364. Visit in June and July to view breathtaking blooms and spectacular panoramic views from this high altitude. You'll also want to visit nearby Mount Mitchell, the highest point east of the Mississippi, and Mount Pisgah, a wonderful place for hiking, camping, bird watching, picnicking and shopping at the seasonal country store.
There are so many things to do and sights to see while driving the Blue Ridge Parkway that it would be almost impossible to list them all. Countless overlooks, innumerable trails, and miles of sparkling streams are just a few of the things that you will be able to enjoy while driving the Blue Ridge Parkway. And if exploring on foot is not your forte, you can always opt to enjoy the view from inside your vehicle. Driving the Blue Ridge Parkway is one of the best ways to become acquainted with the Burnsville NC Mountains in which our cabin rentals in Mt Mitchell NC are located. Though driving the Blue Ridge Parkway is one of the area's biggest draws, you'll find countless Western North Carolina attractions and things to do in the beautiful mountains that surround our vacation rentals in Western NC. Gem mining NC is always popular here, as are horseback riding NC, visiting Hickory Nut Gorge, NC snow skiing, fly fishing in North Carolina, visiting Biltmore Estate North Carolina, and exploring the Quilt Trails of Western North Carolina. We also have some amazing amenities right on site, so call us today to book your fun-filled mountain getaway in the beautiful Burnsville NC Mountains.