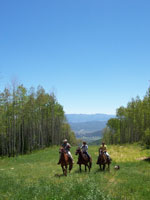 Lots of people dream of going NC horseback riding while they visit the mountains. Maybe this is because of all of the fantastic NC horseback riding trails and other long-forgotten pathways, or it could be that horseback riding NC is one of the best and most relaxing ways to get back to nature and enjoy all of the scenery that the mountains have to offer. Whatever the case may be, horseback tours in Western NC are hugely popular and vacationers staying at Alpine Village Townhomes have multiple places to choose from in the area that offer guided horseback tours in Western NC. Oftentimes, you can explore and access places that you might not have been able to see via a car when you go NC horseback riding. Whether you are an avid horsemen that knows how to control horses properly, or are a complete beginner that has never even ridden a horse, these guides can give you direction.
Most all of the places that offer horseback tours in Western NC for vacationers offer a variety of different tours, some that last up to 4 hours and others that are shorter, at only one hour long. Depending on your skill level and ability, they will help you choose which tour is appropriate for you. All of the places that offer Horseback Tours in Western NC practice proper safety precautions and will more than likely ask you to sign a waiver, which is a pretty standard thing these days. Never fear—horseback riding is very safe and when you follow the directions, things always go smoothly. The trail horses that are used for these types of excursions are trained well and have years of experience being around new people.
So where can you go NC horseback riding if you bring your own horse along and choose to board it at one of the nearby stables that allow visitors to board? You can go NC horseback riding in a variety of areas near the vacation rentals in Western NC at Alpine Village Townhomes. In the Pisgah National Forest you can explore the areas around Curtis Creek Recreational Area or venture to Yellow Mountain Road near Altapass, which is close to the Altapass Orchard. These areas are extremely secluded and perfect for NC horseback riding.
A bit further away from the Burnsville NC vacation rentals yet still very convenient, are the amazing horseback riding NC trails located at the Moses H. Cone Manor just off the Blue Ridge Parkway. If you are driving the Blue Ridge Parkway, the manor and its numerous carriage and horseback riding NC trails are located at Milepost 294 near Rich Mountain. This region is renowned for its historic carriage trails and many trail riders flock to this location in the warmer months. Be advised that it could be very busy here, but it is still worth visiting.
Learn more about the other fun vacation activities that you can check out when you stay at Alpine Village Townhomes in the Burnsville NC Mountains. Located minutes from Mt. Mitchell State Park and Mount Mitchell Golf Course, the Burnsville NC vacation rentals at Alpine Village Townhomes are perfect for those looking to enjoy a family adventure, a romantic getaway or just some solitude and seclusion. We can help you make your trip memorable; click to the information we've provided on the well-known Western North Carolina attractions and things to do like fly fishing in North Carolina, hiking in Western NC, NC Mountain biking, NC snow skiing and so much more. When you book your trip and stay in the cabin rentals in Mt Mitchell NC you will be just a short distance from these and other fun places like Biltmore Estate Asheville, Chimney Rock Park NC, Linville Caverns in North Carolina, the NC waterfalls, the best gem mines in NC, and Mt. Mitchell State Park. Start planning now and contact us today!
Visit Clear Creek Dude Ranch and Springmaid Mountain for more information!