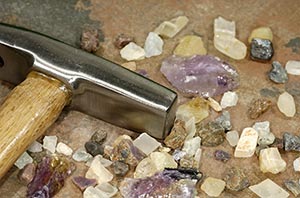 The ancient forests and majestic rivers that surround Alpine Village and our adorable cabin rentals in Mt Mitchell NC are filled with rare and precious stones. For decades, mining towns have existed near Burnsville NC and the city itself was boosted economically during a time, in part due to the mining industry and its proximity to Western North Carolina's and Eastern Tennessee's railroads. This has led to this region's long held reputation of being the gem and mineral capital of the world. In fact, Spruce Pine, a small mountain town near the Burnsville NC mountains annually hosts the Spruce Pine NC Mineral and Gem Festival, this and other gemstone and craft industry related NC Mountain festivals are a major draw for the area. Some of the area's NC gem mines have even been featured on The Travel Channel!
Alpine Village Burnsville NC is near all of the best gem mines in NC and all of the great vacation attractions where you can enjoy gem mining NC. Each mine has its own unique gem mining NC area; most area mining spots use plume mining. A few, like Emerald Village, offer a very unique experience. On these tours you can learn about the history of mining in the area, check out historical mining tools and equipment and explore various mines that have been called some of the best gem mines in NC. Families especially love going gem mining in Western NC and panning for rare stones like aquamarine, rose quartz, rubies, emeralds, peridot, amethyst, topaz, sapphire and other amazing pieces. Most of the spots that offer gem mining NC also employ certified gemologists and other professionals most of whom can cut and set the stones you find, creating the perfect gift or personal piece. You can also browse the gift shops for gigantic stones that have been mined over the years. If you are visiting with a group, you'll want to check out the gem mining NC areas near Alpine Village Burnsville NC vacation rentals.
Interested in Mt Mitchell NC lodging? Alpine Village is situated in a stunning part of the Blue Ridge Mountains in Burnsville NC at the base of majestic Mt Mitchell NC, the highest mountain peak in Eastern America and the Appalachian Mountains. Our cozy one-bedroom and two-bedroom cabin rentals in Mt Mitchell NC come fully equipped and with amazing amenities; some even with Jacuzzis! Learn more about the fun vacation getaway you can enjoy in the Burnsville NC Mountains and browse the information we've provided on the North Carolina Mountain attractions near Alpine Village Burnsville NC vacation rentals. Click to read about the Biltmore Estate Asheville, Linville Caverns in North Carolina, Altapass Orchard, local waterfalls NC, Toe River fly fishing in North Carolina, and the Blue Ridge Parkway North Carolina. This amazing wilderness area is surrounded by the Pisgah National Forest and perfect for everything from horseback tours in Western NC, hiking in Western NC and so much more. Below we've included a few of the gem mining NC spots that we recommend.